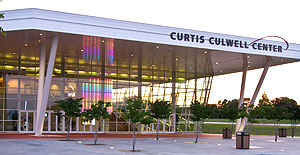 The Curtis Culwell Center is a beautiful state-of-the-art multi-purpose facility, located near George Bush Turnpike between North Garland Avenue and Brand Road directly adjacent to Naaman Forest High School, and the Gilbreath-Reed Career and Technical Center. The senior management team has over 100 years of combined industry experience to help promoters and planners create a successful event. 
The Curtis Culwell Center, boasting over 190,000 square feet of space, welcomes district and community events of all kinds including graduations, sports events, concerts, teacher in-service activities, national and regional tournaments, banquets, weddings, corporate training, meetings, trade shows, world-renowned performances, and a myriad of other public and private events. The facility hosts several hundred events a year.
Interested in planning an event at the CCC? See our Event Planning page. 
Facility features
The facility is designed by one of the nation's leading architectural firms, HKS, Inc.  The firm has been responsible for the design of many of the Metroplex's most visible sports and entertainment venues including American Airlines Center, The Ballpark at Arlington, Bass Performing Arts Center, the Dr Pepper Ballpark, and the Frisco Dr Pepper Stars Center.
The Curtis Culwell Center, with over 1,700 adjacent, well lit, and secure parking spaces, includes an arena and a conference center, two distinct but connected components.
Event spaces
The arena is complete with 6,860 fixed bowl seats and 17,085 sq. ft. of arena floor space. The arena can be configured for both a full-house and half-house set-up. A 13' x 22' big screen HD video board is located on the South arena wall.
The upper concourse of the arena has over 18,000 square feet of area with windows all along the north wall giving patrons a spectacular panoramic view and includes 6 arena view suites as well as two large hospitality suites. The hospitality suites contain over 3,200 square feet of space overlooking the arena floor atop the end center of the upper concourse. Large parties can enjoy their own private catered function while enjoying an event in an elegant glass-enclosed room complete with monitors, as well as cable TV, internet, and voice connections.
The conference center, containing over 18,000 square feet of configurable space, includes the grand ballroom, two large meeting rooms of over 1,000 square feet each, and a lecture hall.
The grand ballroom has over 8,000 square feet and can seat over 400 for banquets. This space can be split into as many as seven different rooms. State-of-the-art technology includes large hideaway screens as well as three drop-down projectors in the ceiling and ample electrical, telephone, data, and internet drops.
The lecture hall is designed to accommodate over 120 guests in a tiered theater-seating format. The seats are equipped with permanent classroom tables that are wired for voice or data access. A permanent projection screen and overhead LCD projector are available to users of this space. The configuration of this space is appropriate for training sessions, lectures, presentations, meetings, and other similar functions.
See our Spaces page for more details.